The town council in nearby holiday town Blackpool hired contractors to repaint the railings over the North Promenade -- but when the contractors reached a dirty old sock tied to the railing, they simply painted it.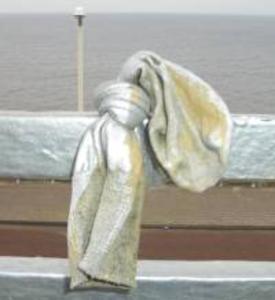 Contractors sprucing up North Promenade took the astonishing short cut when they
came across the abandoned sock tied to a railing.
Passerby Andrew Purcell, 22, from Leyland who is working in the area, said: "I think painting round a sock instead of just removing it could quite possibly be the laziest thing I've ever seen.
"It does look quite funny tied there, but I suppose it must be annoying for the council if they are trying to improve the look of Blackpool."

Yaeh sock it to em Blackpool!